Summary
January, 2012

Google+ is booming and growth is vertiginous.

That's the summary of the social network's growth based on Google's January 19, 2012 press release in which CEO Larry Page exclaimed in the opening paragraph:
"I am super excited about the growth of Android, Gmail, and Google+, which now has 90 million users globally - well over double what I announced just three months ago. By building a meaningful relationship with our users through Google+ we will create amazing experiences across our services."
But, if this is the 30,000 ft corporate view, what is the view on the ground? Well, you're reading it.
You're holding (or reading a digital version on your tablet) PlusDemographics' first report summarizing the profiles of tens of millions of Google+ users. It is a rich trove compiled from gender, location, occupation, and activity/interest data aggregated from the global community that is Google+.
If users have completed their profiles and chosen to make them public, we've collected the information, anonymized it, and aggregated it to answer the question, "Just who is using Google+?"
Who's who on Google+?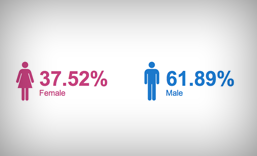 See the gender breakdown of Google+ users. We segment our demographic report in three ways. Globally, by Country, and for paid users, both Global and Country metrics are relavant to a users Circles. It's personalized.

A snapshot of our global report:
Female:

28.8%

Male:

70.4%

Single:

43.82%

Married:

26.74%

Looking for Friends:

41.99%

Networking:

32.21%
Global Age Breakdown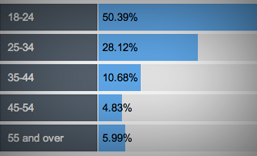 18-24:

50.4%

25-34:

28.1%

35-44:

10.7%

45-54:

4.8%

55+:

6%
The college demographic is well represented given user's age. Not surprisingly, Google+ users skew sharply to either current college students or recent grads. Check out the full report
Google+ Global User Density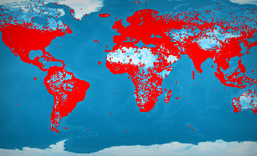 Google+ is a global community. No question about that. Still, half of the user base lives in just three countries; USA (31.49%), India (13.69%) and Brazil (5.43%). The next ten countries are the United Kingdom, Canada, Germany, Indonesia, Mexico, Italy, Spain, France, Australia, and Russian Federation.

Among the mass of American Google+ users, the most common states of residence are California, Texas, New York, Florida and Illinois.

Looking more closely at the city of residence, Indian cities are six of the top ten, led by Delhi. The other five are Mumbai, Bangalore, Chennai, Hyderabad, and Pune. See the full report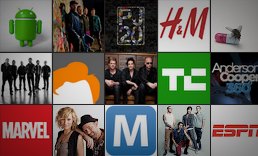 Pages: Brands and Bands
First, let talk brands, bands, companies and celebrities. They've flocked to Google+ since Google launched Pages in November 2011. Based on our figures, well over 300,000 Pages have been created. It was akin to inviting people to a party and a lot of people actually showed up. The success has been widely distributed across a variety of industries and markets. You now find retailers (H&M;), athletes (David Beckham), entertainers (will.i.am and Lady Gaga), and consumer brands (Apple) expending resources to grow their Google+ Circles of followers. View the Leaderboard for a list of the top Brands/Pages.
Employer
Although slight over 6% of users provide student as an employer, the most frequently-cited (2.65%) organization by name is Google, itself followed by IBM (2.11%), Army (2%), McDonald's (1.62), Wal-Mart (1.16%). The other companies comprising the 13 most common frequent employers are the Navy, Apple, Accenture, Infosys, Wipro, Tata Consultancy Services, Cognizant and Microsoft. Check out the full report
Occupation
"Professional student" might be a popular occupation given the difficulty of finding meaningful employment since the recession's start but student is in fact the most common occupation. It is followed in order by; software engineer (2.74%), consultant (2%), manager (1.81%), photographer (1.47%), and teacher (1.37%). Other common job titles are marketing, designer, professional, software developer, graphic designer and web developer. Check out the full report
School and Alumni Affiliation
They might never win a BCS football championship, but so far, the alumni of the New York University (1.23%) are the most represented among Google+ users. The next five are the University of Washington (1.14%), University of Florida (1.06%), American University (1.01%), University of Virginia (0.95%), and the University of Texas (0.935). Columbia, Indiana, University of Delhi, Michigan, University of Chicago, University of Phoenix, University of Mumbai, University of Pune and University College of London round out the Top 15. Check out the full report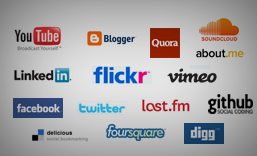 Social Media Activity
Google+ users are not an insular bunch. In addition to spending time on Google+, they're spending time, a lot in some cases (see Facebook), using other social media services and sites. The determination of other social media activity was based on whether users had noted using other social media services and sites in their Google+ profiles.

Here are the participation rates:

Facebook:

41.4%

Twitter:

36.93%

YouTube:

15.9%

LinkedIn

10.94%

Flickr:

6.57%

Yahoo!:

4.53%

We're not surprised that Facebook and Twitter are the most popular. What is also clear is the difficulty in gaining traction and critical mass among consumers and businesses that use social media services and sites. There is a huge amount of competition for their attention.
Interested in learning more about who is following you on Google+?
If you're interested in knowing more about who is following you on Google+ or who comprises your Circles, PlusDemographics can produce a personalized report. For more information, please visit: plusdemographics.com
Methodology - How we collected and aggregated Google+ data
We have been tracking public profiles on Google+ since even before its public launch in summer of 2011. With a sense of modesty, we've become somewhat of an unofficial authority on this social network.
In January 2012, we crawled and indexed just over 45 million public Google+ profiles (45,015,599 to be exact). This dataset forms the basis of the report you've just read.
A statistically relevant number of users had provided data, such as Gender, Location and Relationship Status, in their public profiles. We then used these data to extrapolate to the full Google+ population. One of the more difficult challenges we faced was the fact that the data in these fields were "free form" and unstructured. We were able to normalize it for most of the fields to a degree of accuracy with which we are comfortable.
Age Range, while not a specific field found in profiles, was determined across the Google+ population by assuming that users had begun college at the age of 18. By working backward, or forward as it were, we calculated the user's current age based on the start of their freshman year.
Acknowledgements
We want to thank the countless number of users who have submitted design ideas and in some cases raw data to our sites: FindPeopleOnPlus.com, PlusClout.com and ScheduleHangout.com - all of which has helped with a better user experience, feature set and added to the fun level of developing around Google+.
---
View the full report